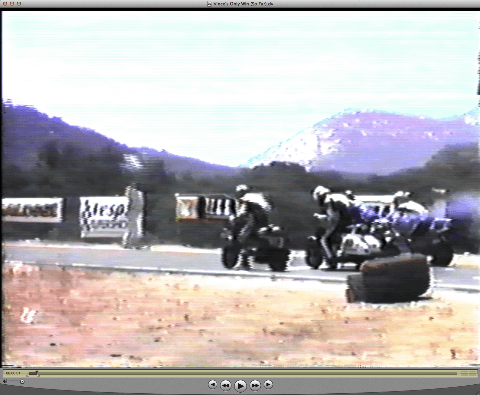 Written by

Vince

Category: ASRA History
Hits: 10999
Bookmark this
Preface:
My racing career was almost an afterthought in the bigger picture of my whole Lambretta experience. As owner of
West Coast Lambretta Works
, team captain of a seven man team, founder and president of the
American Scooter Racing Association
, and
Race Director
on weekends, there was usually very little left in my tank when it came time to actually hit the track. There is more to this story that I will leave for a
later date
, but suffice it to say that at most events I barely had enough energy to get my leathers zipped up, let alone be competitive on the tarmac.
July 23, 1989 - I remember this race like it was yesterday.
Tiny three eighths mile Amago Raceway packed something like 16 well paved turns into its miniscule footprint. Most of them were plenty wide enough for swapping paint and lead changes with regularity. Handling, braking, and acceleration were the name of the game.
I entered this race with my teammate - and one of the favorites for the #1 crown - Matt Dawson as my main competitor. Vespa Supershop's Curt Thom and Scooterville's Jeff Walker had ideas of their own in a four bike field. "Elsie"'s 32hp liquid cooled top end was in top tune, and I was feeling good about my chances.
Unleashing 30hp+ and ten inch tires on a postage stamp sized course meant low gearing and the hair raising antics that go with such a setup. Matt's aluminum framed Lambretta was by now a fairly reliable machine, and a real beast at that. This was going to be quite interesting!